Ihmemaa is an alternative music festival, which takes place on Saturday 1st of July 2023 on Sulkava Rowing Stadium by lake Saimaa.
Performing:
Maajo Soundsystem (FI/MU/ZM)
Amuri
Mary Ann Hawkins
Joni Ekman Group
Lapsuus
Rosettes
Syskofrenia
Suite Green
DJ-duo Kobran kädet




The age limit for the festival is K-18. Tickets 35 €, on sale at www.ihmekollektiivi/ihmemaa
Joose Keskitalo,
DJ Salmelan Muovisorvaamo
Tickets for the gig 10 €. Brunch is sold separately at the counter.
Facebook-sivun näyttäminen ei onnistunut. Tarkista markkinointievästeiden hyväksyminen ja selaimen yksityisyysasetukset.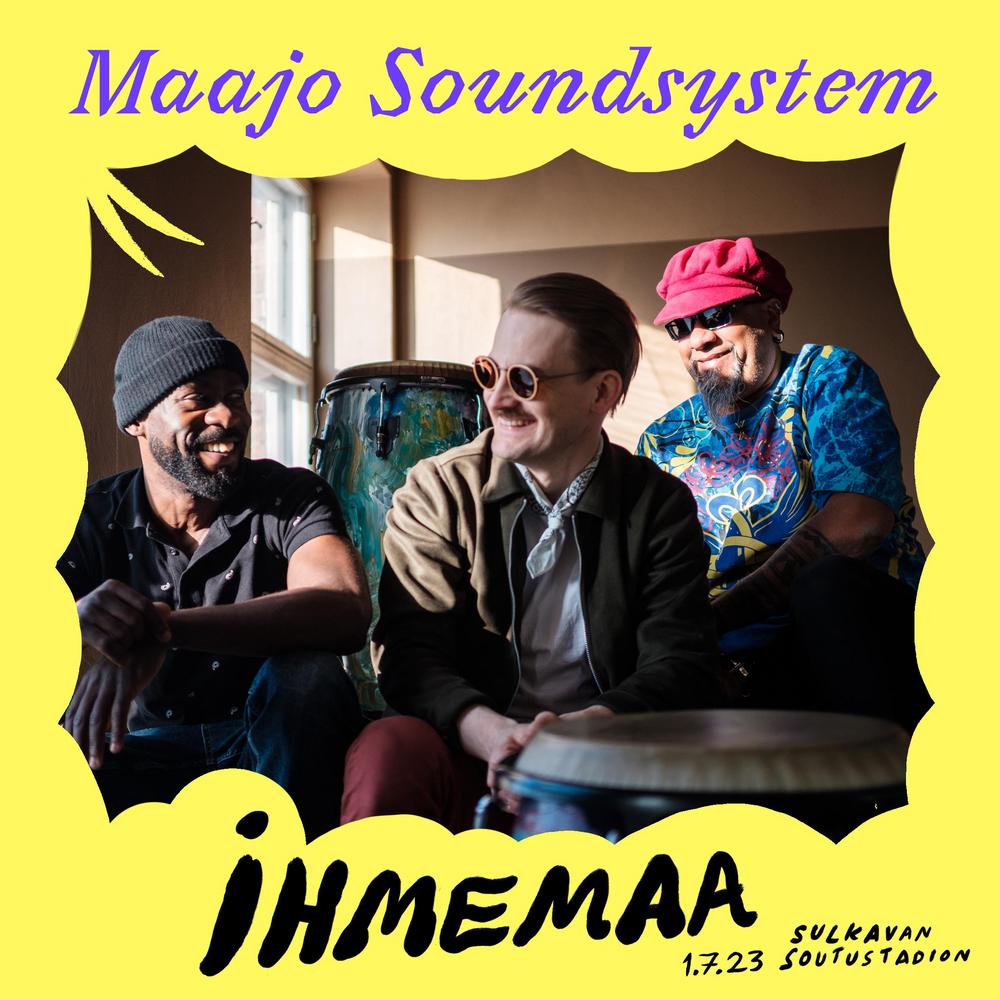 Maajo Soundsystem brings tropical heat to the Saimaa lakeside! Maajo is an international collective with hundreds of thousands of streams of their signature afro-balearic and afro-cosmic sounds, pulling influences from all tropical sounds to Finnish woodlands on a club friendly rhythm. The collective's latest album "Water of Life" was released in 2022 by Brooklyn-based label Wonderwheel.
 
Maajo Soundsystem, which consists of Zambian singer Waina, Mauritian multitalented musician Gilbert Kuppusami and Maajo's primus motor Jon Thureson makes its world premiere at Ihmemaa. In their show they combine the best bits of a dj- and a live gig, playing both Maajo's own and other rhythms from all over the world.
It sure will be a dance party you don't want to miss!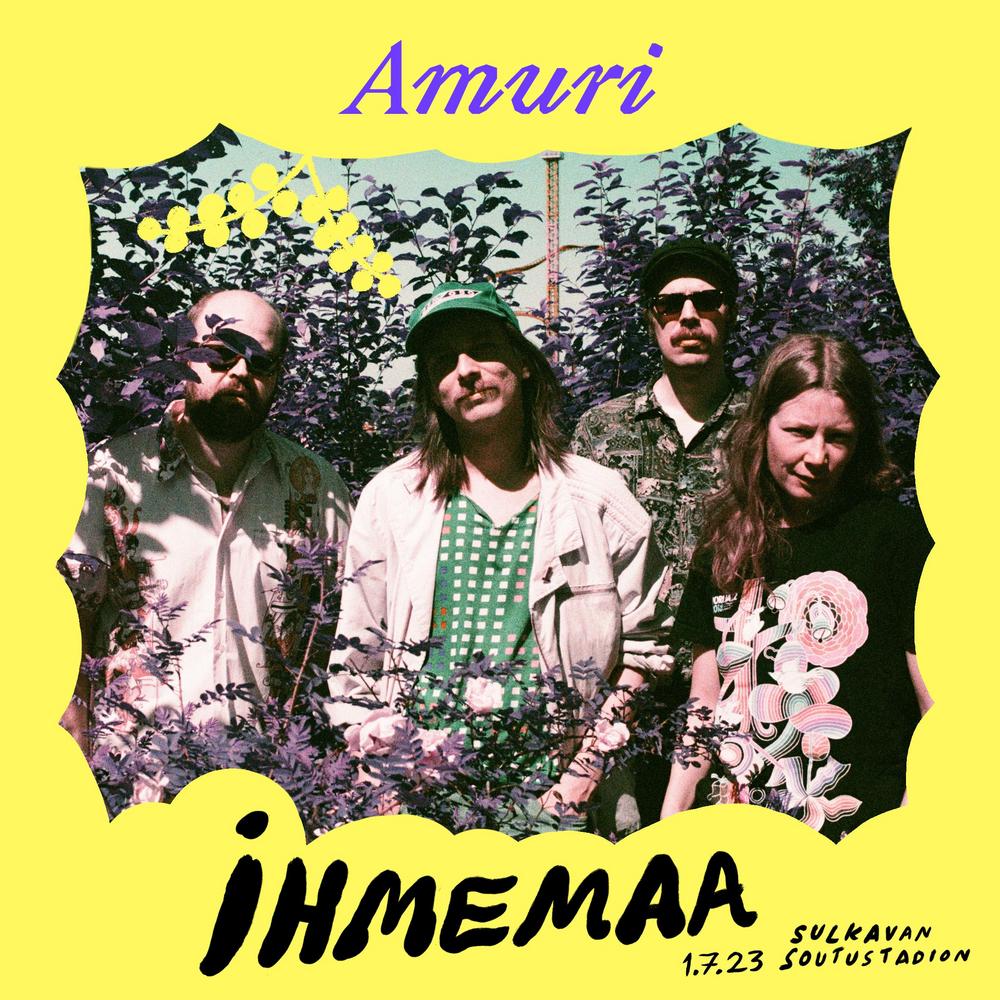 In this year's poll, Amuri was the most requested performer and therefore (among dozens of other reasons) we are happy to announce that they will play at Ihmemaa this summer! With their timeless pop music, they are one of the brightest stars of the Finnish alternative music scene.
 
Their latest album was voted among the best albums of 2022 in several Finnish music media. The highly productive band also released a cover album last year, and they are already working with their upcoming album. Their music is like the prettiest vintage design, combining the classic sounds of Finnish pop music to this day's themes.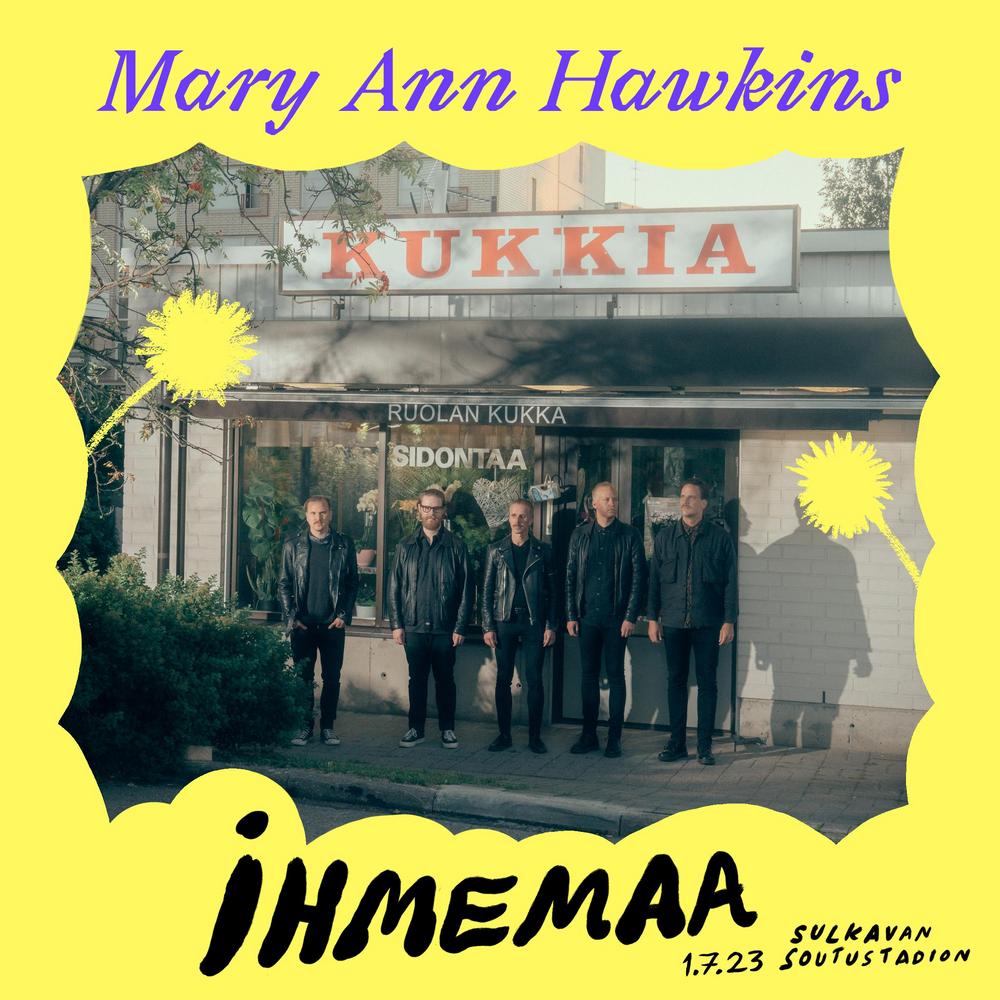 Mary Ann Hawkins is a Helsinki-based surf rock band that combines cinematic soundscapes with menacing rock music. Their live shows, consisting mainly of instrumental pieces, have been described as fast, sweaty and wild. For the past few years the group has actively toured in Finland as well as around Europe, thereby reinforcing their reputation as a new Finnish surf rock phenomenon.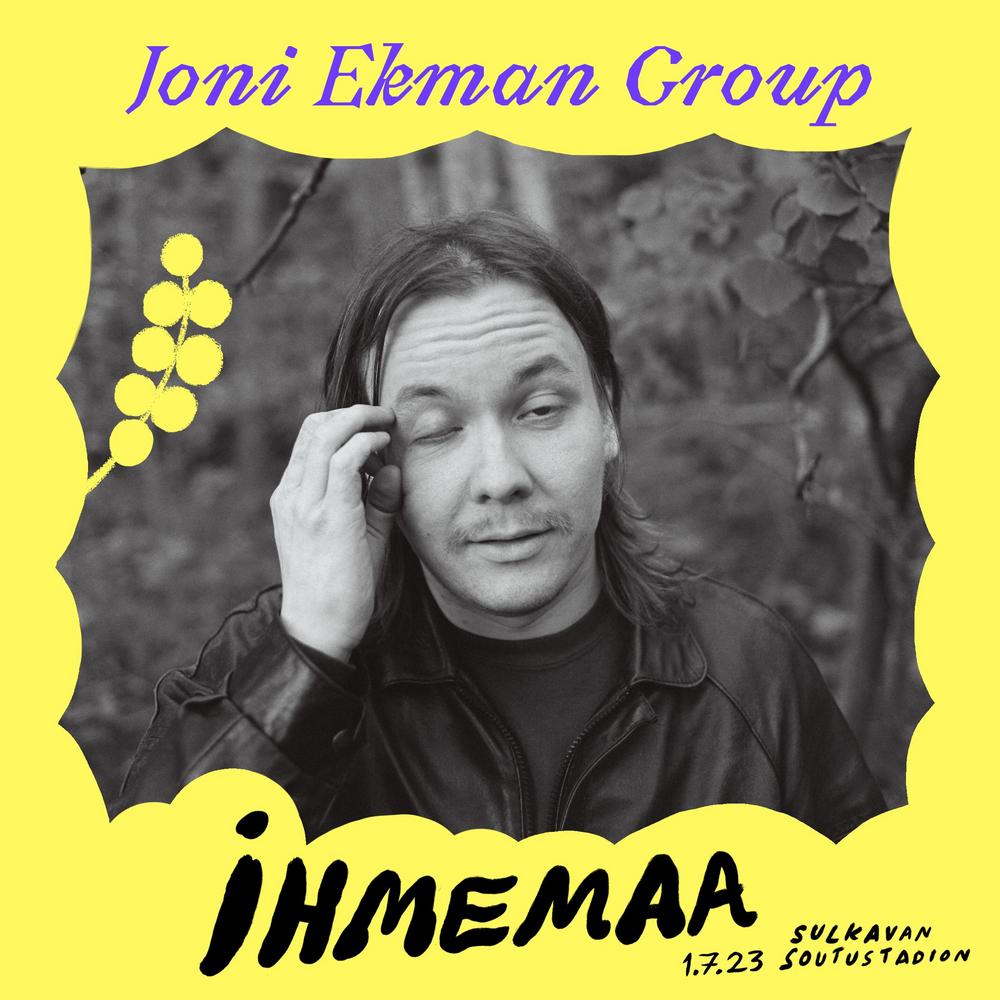 Joni Ekman is a renowned songwriter, whose distinctive music draws from classic rock with versatile, sincere, fresh, fierce and delicate elements. His accomplished band, Joni Ekman group, is looking forward to performing at Ihmemaa. The summer day in 2021 when the idea of Ihmemaa was born, Joni Ekman played a spontaneous solo gig by an old sauna in Sulkava and thus became a part of a story that changed the history of Sulkava.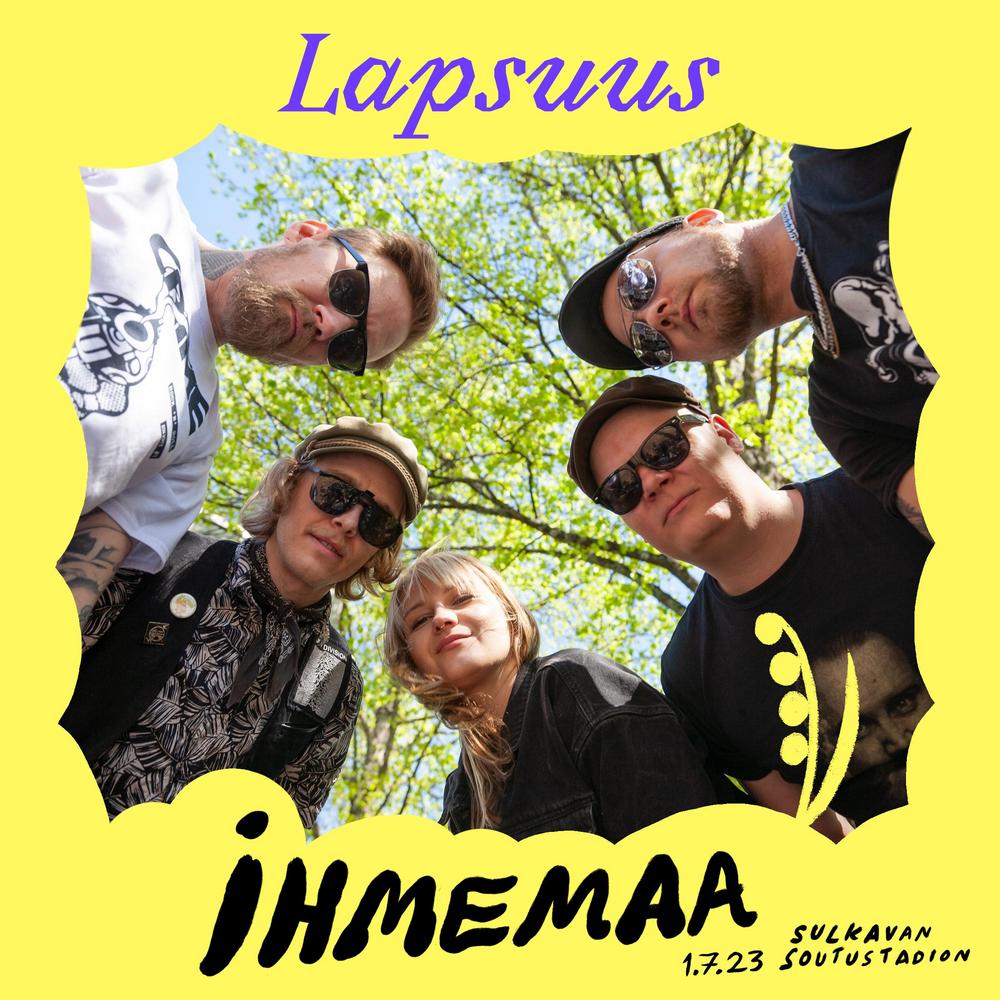 Lapsuus is an up-and-coming punk band originating from Sulkava's nearby city Mikkeli. Their lovely pop melodies provide contrast to the horrifying lyrics about the ruthlessness of being a human among other humans.
Currently Lapsuus is recording their second full-length album and the first singles are expected to be released in the spring 2023. Lapsuus has toured extensively throughout Finland and is known as a fiery live band, which is something we will all get to witness at Ihmemaa!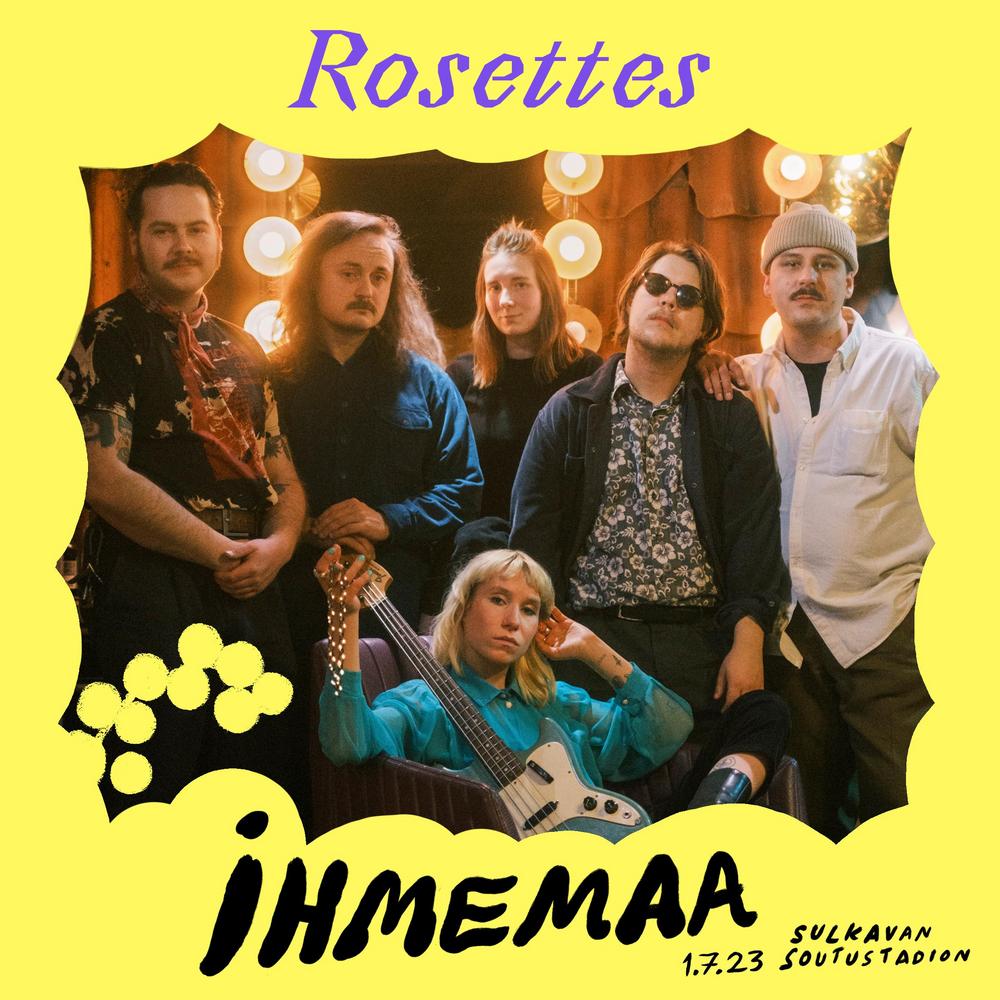 Rosettes is a fresh ensemble formed by Finland's alternative scene's top musicians. They play something of a soul and r&b dipped in psychedelia, inspired by Sade, Lonnie Liston Smith ja Mariya Takeuchi - sounds so interesting and is rare to be seen live. We are happy and privileged to have them play at Ihmemaa!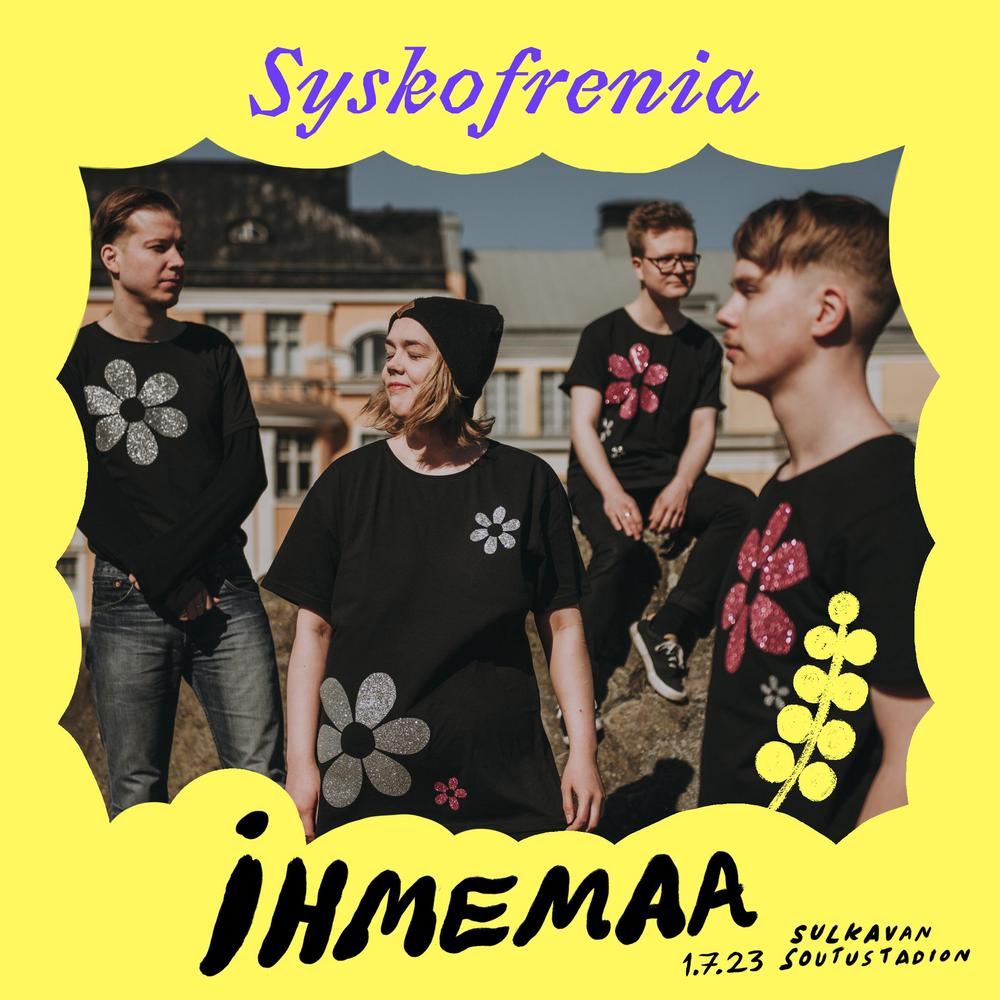 Syskofrenia plays beautiful and artistic jazz pop with catchy melodies and intense lyrics. The music is made by Saga Söderström, a singer-songwriter and lead persona for the band. Highlighting the jazzy piano alongside fresh and nuanced singing, their songs are as bubbly and bittersweet as the best summer adventures can be.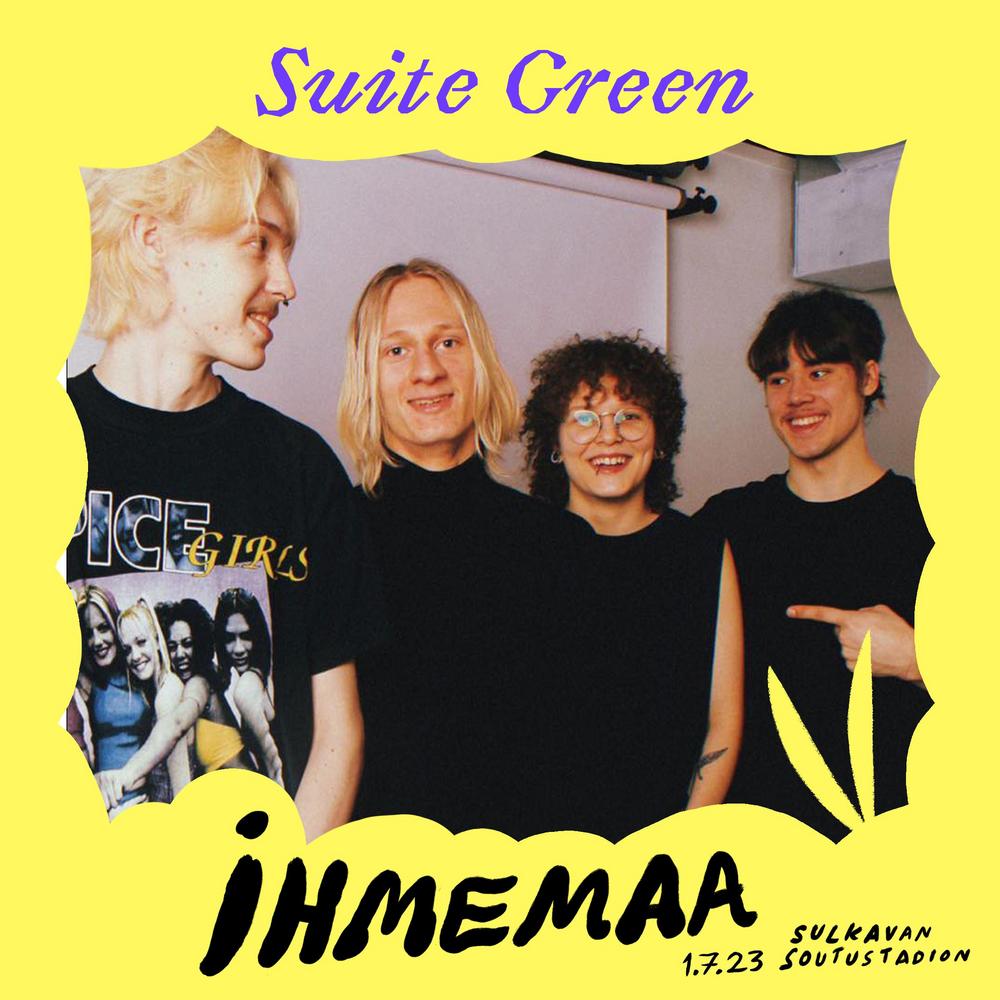 Suite Green is a fresh new group from Tampere, that is best known for their energetic and chaotic live performances. Their music has elements of pop punk, grunge, alternative rock and indie. This four-member group has charmed the audience with their authenticity, relatable lyrics and their endeavour to cherish the spirit of the nineties. Welcome to Ihmemaa, Suite Green!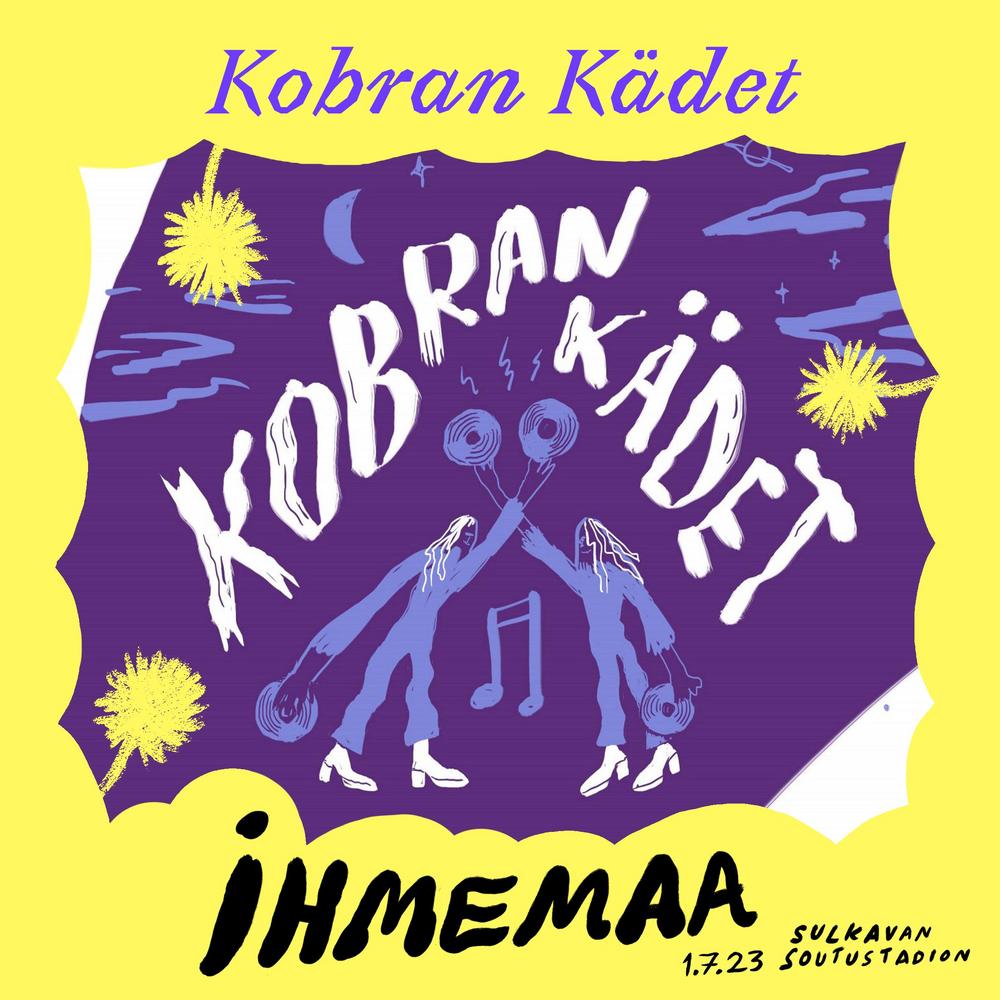 DJ-duo Kobran kädet wraps up the festival night with groovy classics and disco gems.


Closing club 
and archipelago themed brunch 
on Sunday 2.7.2023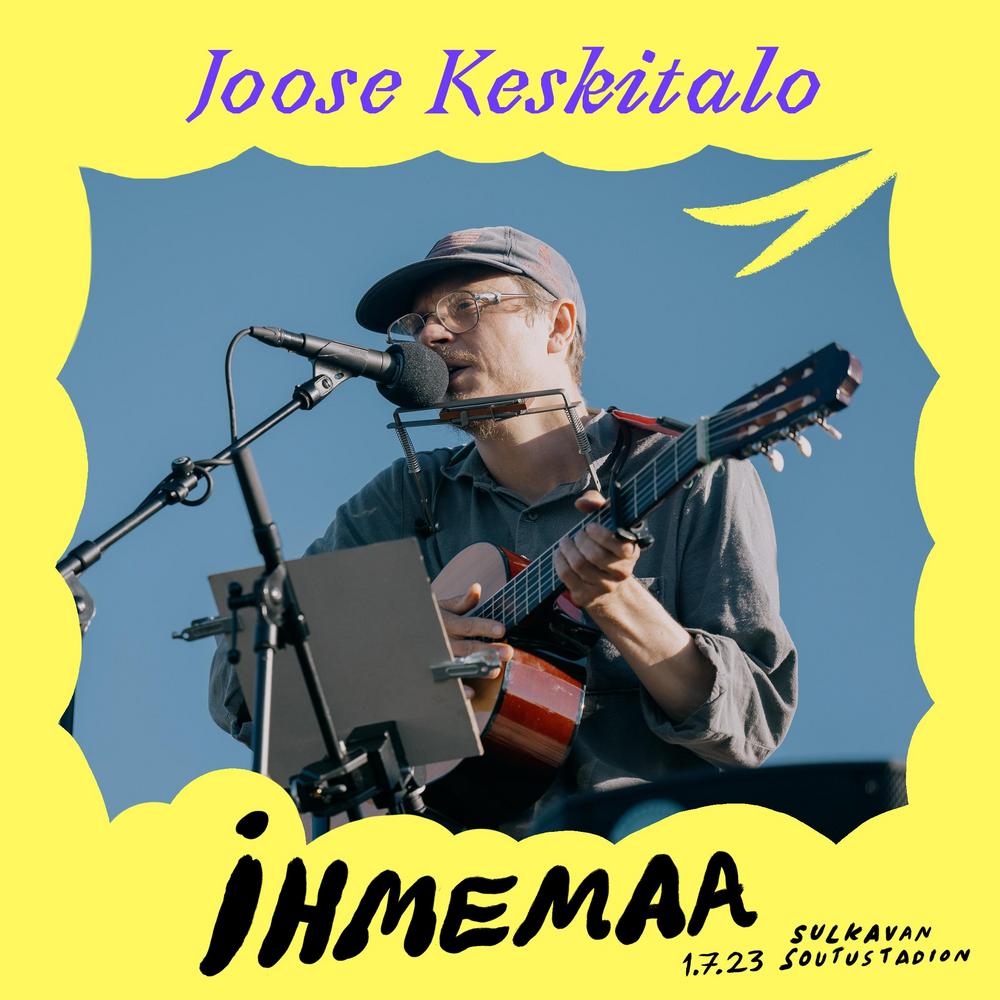 Finnish folk master Joose Keskitalo is considered one of the most significant Finnish singer-songwriters of the 2000s. He has walked his own musical path, and is best known for his classic Finnish indie folk releases with Kolmas Maailmanpalo and for a renowned experimental lo-fi ensemble Paavoharju. His music describes mystical sights of Finnish folklore, myths and tradegies of the Greeks and other spirituous histories.
Joose Keskitalo will perform on Sunday 2nd of July at Tiittala Mansion's Rantamakasiini at the festival's closing club, where there's also a refreshing archipelago themed brunch available.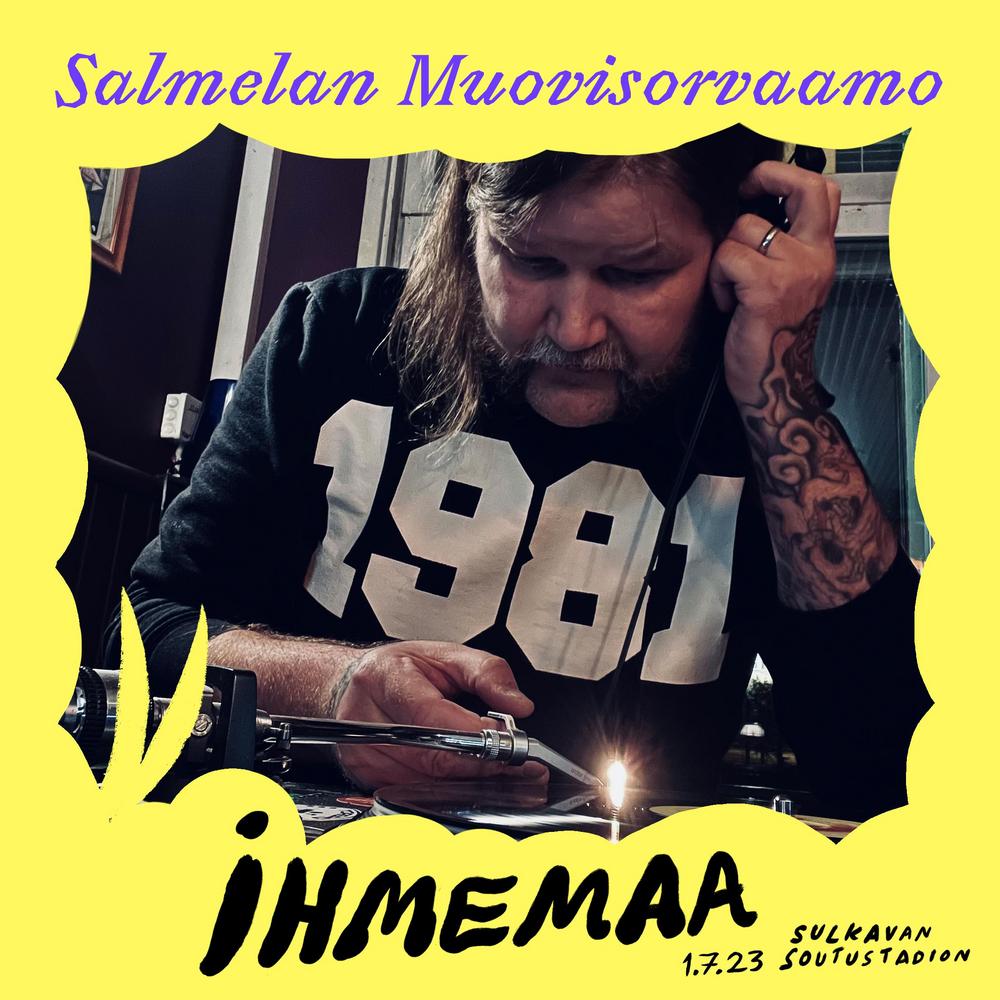 The closing club's atmosphere is created by the established DJ Salmelan Muovisorvaamo's carefully curated vinyl record selection, which can be anything from Finnish schlager to Mister Kino Jerroo's "Katanga Country".


Principles of a safer space
Our festival follows the principles of a safer space. Please read these through before arriving at the venue and immediately notify our staff or security personnel (whom you recognize by the yellow vests) or the organizers if you notice any activity that violates these principles. We consider it of primary importance that every festival visitor feels the space is safe, and that they feel welcome exactly as they are. There is zero tolerance for any kind of discrimination.
UN Safer Space principles:
🌸 Respect the other's personal physical and mental space. Respect the right to self-determination. Do not touch another without asking permission. Remember that you cannot know another person's boundaries without asking them. Ask for room for yourself as well, if necessary.



🌸 Do not mock, ridicule, belittle, push aside or embarrass anyone with your words, behavior or actions. Do not judge looks, gossip and reinforce stereotypes.



🌸 Don't make assumptions based on appearance or actions. Do not make assumptions about anyone's sexuality, gender, nationality, ethnicity, religion, values, socio-economic background, health or ability to function.



🌸 Give space. Try to ensure that everyone has a chance to participate in the discussion. Recognize others and don't override their opinions. Also respect the privacy of others and treat sensitive topics with respect.



🌸 Listen and learn. Accept new topics, people and perspectives without prejudice. Approach every thing and situation that comes your way as an opportunity to learn something new and develop.



🌸 Apologize if you have intentionally or unintentionally offended others.
YouTube-videon näyttäminen ei onnistunut. Tarkista markkinointievästeiden hyväksyminen ja selaimen yksityisyysasetukset.